Indonesia is known above all for its magnificent coastline of very blue beaches and stunning nature, but there is much more to see in this incredible island, temples of millenary architecture, fauna and flora as characteristic as surprising, warm people, a lot of colors and endless culture. Here we want to share with you some places you can visit if you are looking for what to do in Indonesia, especially on the island of Bali.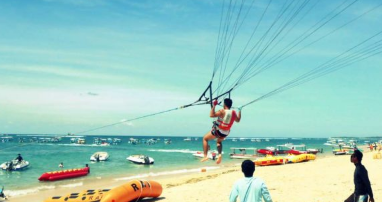 One of the essential places to visit in Bali is Mount Batur, one of the active volcanoes. There, besides being able to prepare steamed food in the most original way thanks to the volcano, you will enjoy a truly beautiful mountain landscape. Also, you will have the opportunity to taste the herbal tea and the traditional coffee of the area, as well as to see its elaboration process.
The rice terraces of Tegallalang are other places to visit in Indonesia that cannot be missing from your list. In addition to a beautiful landscape, it is an opportunity to get to know the root of the country's gastronomic culture and the extraordinary work that farmers do.
Going to the Uluwatu temple is another
best things to do in Bali
. It is one of the most important in the country and from its peak, you can appreciate the Indian Ocean. A place that also offers you the best sunset you can enjoy on the island.
If you are looking for something fun that also lets you know the incredible wildlife of Indonesia, be sure to visit the Bali Safari and Marine Park. An all-day ride enjoyed by children and adults alike and an opportunity like no other to interact with animals.
To enjoy the sea, Sanur beach is one of the many paradisiacal spots in Bali that you can visit and one of the Best things to do in Indonesia, quiet and beautiful, full of coconut trees. If you wish you can also enjoy the pools of the Sudamala Resort.