Salvias are a sizable versatile group of perennials, commonly called sages. They're part of the Lamiaceae or mint family. The culinary and herbal attributes of sage are known for centuries. They're also comfortable to gardeners for their ornamental qualities. Culinary sages are often known as lavender, whereas the ornamental kinds are called Salvia. With an awesome array of foliage and flower colors and textures, ornamental sages will do the job nicely almost any place in the garden except moist shady spots.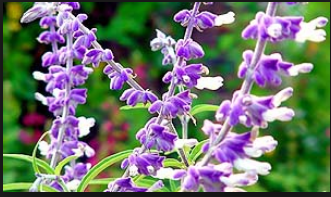 To grow salvias, so the seed in Late spring straight in the garden. They can also be propagated by root division in spring and by taking cuttings plant salvias in a bright place, in well drained soil that's slightly enriched. The native plants are utilized to inadequate soil conditions however cultivars will delight in the inclusion of organic matter. They're not hard to grow, problem-free and adaptable to a lot of different garden requirements, though they do best in full sunlight, and won't tolerate soggy soil.
Ornamental salvias are appreciated for their own summer-long flower displays in addition to attractive foliage. The flowers have whorls of all two-lipped flowers forming a spike. Shades run from white to deep purple, with all colors of pink, blue and red in between. The foliage can be diverse, from fuzzy colored grey to smooth dark green leaves. They are sometimes small-leafed or have leaves around 8 inches. Some varieties also have variegated leaves which may show purples, whites or pink tones. The foliage is frequently aromatic.
Splendens: The most commonly available cultivar is Salvia splendens, frequently called scarlet sage. Its fiery red flowers and dark green leaves. Newer varieties are developed, with flowers colors which range from cream through orange to purple and lavender. This plant is a tender perennial, with originated in Brazil, but is often grown as an annual.